Women's Fiction/Romance Boxset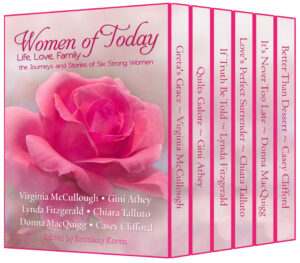 WOMEN OF TODAY is a collection of six women's fiction/romance full-length novels edited by Brittiany Koren. The novels include strong female characters who face diversity and must look within to find their own strength to overcome their challenges, and possibly find romance along the way.
Greta's Grace by Virginia McCullough:
Lindsey Foster longs to heal her emotionally distant relationship with her daughter, Greta, an accomplished landscape photographer in Door County, Wisconsin. But Lindsey's priorities change quickly when Greta is diagnosed with cancer and the whole family is forced to examine old and complex issues. Nothing is certain, except that everything is bound to change, including the way Lindsey looks at love.
Quilts Galore by Gini Athey:
Two years after the death of her husband, professional quilter Marianna Spencer makes the brash decision to buy a quilt shop in the nearby small town of Wolf Creek. She and step-daughter, Rachel, and Rachel's baby, Thomas, forge a new life in the tight-knit community. And there's an attractive jeweler next door that tilts her world.
It's Never Too Late by Donna MacQuigg:
Recently divorced attorney, Kathryn Sheldon, has sworn off men and chosen instead to leave Baltimore to follow a nearly forgotten dream of running a quaint bed and breakfast in Taos, NM. A chance encounter with a handsome half-Navajo, half-Caucasian truck driver, John Hawkins makes her doubt her decision about the opposite sex, but she's a determined woman and it will take an equally determined man to change her mind.
Love's Perfect Surrender by Chiara Talluto:
Love's Perfect Surrender is about a troubled married couple with flawed expectations, and an imperfect, beautiful child with congenital limb deficiency who teaches them to surrender so they can mend their broken union.
If Truth Be Told by Lynda Fitzgerald:
Christie O'Kelly's journey toward understanding the precious balance between truth and compassion is the heart of Lynda Fitzgerald's novel, If Truth Be Told. Set in Melbourne Beach, Florida, If Truth Be Told begins with teenage Christie gaining a second mother in her uncle's wife. She also gains a new cousin, and this new family is going to turn her world upside down. As the years pass, what she learns challenges her beliefs about life and those she loves, and requires the most difficult evaluation of truth, compassion and forgiveness that Christie has ever faced.
Better Than Dessert by Casey Clifford:
When dessert no longer interests her and cleaning closets wins over answering her phone, recent widow Katy Krueger knows she's in trouble. But how does she handle her heart wanting and needing to be in two places…
The WOMEN OF TODAY collection includes heart-warming, family-oriented women's fiction novels about women who must listen to their heart in order to move forward with their life decisions that can and will change their lives. The editor, Brittiany Koren, and the authors, all hope you enjoy this wonderful women's fiction novel anthology. WOMEN OF TODAY is Brittiany Koren's seventh anthology she has compiled.