I'm happy to introduce new author, Greta Buckle, as our guest today. I met Greta through Brenda Novak's Online Auction for Diabetes Research. We've worked together on several projects, and it was a real pleasure for me to work with her on today's feature novel, Mything You. It's been a pure joy to get to know her and watch her grow as a writer. Please welcome Greta!
Greta Buckle grew up in Irish Catholic Boston before moving to the Miami sun. She's worked in engineering, then in law. After realizing she hates clients, she became a high school teacher. Teaching is fun, but writing is her passion. She wrote one hundred and one fan fiction stories online before deciding to transition into writing her own stories. Never ask her about republishing her fan stories from age eleven- horribly written stories of princesses. Greta dreams of writing full-time, where her barista can make her coffee, and a walk on the beach can motivate her tales. The 'Theseus' story came to her when she was a freshman in high school when her English teacher, a nun, told her how life was hard and tragedy teaches lessons. The sci-fi stories come from years of Star Trek and Star Wars fandom. Greta's love of writing has kept her centered and focused. How is she crazy? The voices in her head are characters in novels, and she's not insane. Visit her website at: http://gretabuckle.com/

What event/person made you interested in writing? 
There wasn't one event, exactly. I spent years and years writing fan fiction as a mental release. I wanted to tell stories not seen on TV. What happened to me to write full length novels was a realization. I was unhappy with my life, and no book told the story I wanted to see. I was so tired of not reading the story I wanted to read, then I realized why not write your own? I wrote it, finished, then asked myself what do I do now? This set off my interest in pursuing more. Do you know my eighth grade class in the yearbook voted I would most likely be a writer? My reaction then was to go home and cry. In my head I thought writers lived in the fortress of solitude like Superman's home and never got to go outside. Such a strange reaction! I giggle over this now.
What made you interested in the Greek myths?
My family are nerds. My sister and brother had an argument in the ancient ruins of Rome over the Latin translation they were both doing there. At the dinner table we might discuss who killed who during the French Revolution. And, my father is a huge history and science fiction fan. Unlike most of my friends, I tended to know every story in the Bible and myths. Plus I took a class on the classics in high school. Either way, I'm a nerd and I love the stories.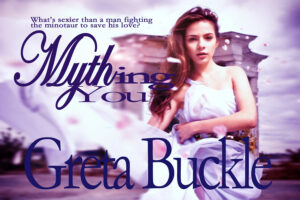 What was your inspiration for Mything You?
I came home from a writers' conference in Chicago, then I saw an open call for stories on Ancient Athens or Rome. They were looking for dark and gritty with more sex, so it wasn't like my novel at all. Unlike the 50 Shades novels, I won't write what I don't feel. I was pumped from the conference, and the thoughts of the Ancient world had me buzzing. I penned the outline. I wrote the first chapter. Then I watched a movie starring Theseus to confirm… no my story is nothing like that movie at all. Good. At that point, I penned the story. I wanted to retell an ancient myth as a romance, and, of course, the characters had to be young. Theseus is in search of his father, and thirty year old men aren't looking for adventure the same way a newly turned man is. In my rendition, love helps him win everything.
Tell us about your characters–Theseus and Ariande. How did you come up with these characters? Were your characters–the way they act in your novel– inspired by anyone specifically?
I wish I knew someone on an epic adventure. I'd have joined them. In my head I saw Theseus as an Indiana Jones, or Prince of Persia type character. The man on his journey, larger than life action hero intrigues me and grabs my attention. He's on a mission, and will accomplish his goals.
Ari had to be strong-willed in order to keep up with Theseus. She was not to be weak and she's not going to kill herself because a man might leave her. Vulnerable, yet strong. Not just the hero must save her girlfriend, but she's not the kick butt, doesn't need a man because she's strong and hard either. Guess I was going for Drew Barrymore type in Charlie's Angels, which is hard to mix. She's strong yet soft.
What else can you share about yourself personally?
I worked from high school, through college, and after in the Engineering department of a major company. In high school, I made the photo copies of the plats. Talk about bored! I decided to go to law school. Think Legally Blond, though I'm not blond. In school, I thrived. I tutored people on course work. Then I had to get a job in the legal field. I had to meet clients… with problems…eww. Yes, I met interesting people, and I met lawyers who worked their entire lives, giving eighty hours a week, to Lady Justice and the reward was a huge alcohol bill and a lonely life. I couldn't live like that either. So, again, I quit, and became a teacher. While teaching is a rewarding job, it's not everything I want. Writing is the one constant in my life.
I have a cat, and his name is Anakin Skywalker though he's yet to display any evil tendencies, at all. I'm excited about the Disney merger and new Star Wars movies.
I'm not married, no children, etc. But I do have two parents, two sisters and a brother. One sister has read my stuff, but the rest of the family hasn't. I love my family, but I always call them the crazy Scorpio nest. Everyone but me, the exception, are all water signs, mostly Scorpios. I'm the odd one in the family. But if anyone knows Scorpios, you know they are intense. Growing up in that household meant living in a constant state of defensive warfare. Shouldn't shock anyone I've turned to writing.
What is your plan for future novels?
Writing has taken over my life. Let's see I'm penning a sci-fi short, which Brittiany, my editor, doesn't know about yet. I always wanted to write my own version of Star Trek, but for that to happen you must have a ship full of interesting characters.
I'm writing a sequel right now for Haemon and Antigone. If anyone is familiar with the classics, I will state now, Antigone will not die. I never thought she should have. I'm mixing Antigone and Haemon's love story with the original tragedy and the Seven Against Thebes myths. Add in a love story. Minus out the tragedy, and I've set up a nice war for a city state.
But what I'm really excited about is how we're getting to work on my contemporary fantasy mixing in the Greek Gods to modern age, with a science fiction, Ancient Aliens angle. One epic bad guy. Seven love stories that must be told to break a curse and restore powers. This is the story that made me want to write. It started with the question, what if you were a god or had super powers, but you never knew it? You lived an ordinary life, never accessing your potential.
Which authors do you enjoy reading?
This is a hard question. I read so many throughout the years. This is the equivalent of 'the what's your favorite movie' question. My dad worked for Warner Brothers before I was born. I've seen thousands and read even more than that. If I state Julia Quinn, Nora Roberts, JK Rowling, I skip a hundred more.
Thank you, Greta, for sharing with us today! If you'd like to leave a comment for her, she'll be checking in throughout the day. Thank you!