Legal Mystery
Book 2 in the Tri-Angles Triathlete Mystery Series
Freewheel takes readers for a spin in the real world of personal injury litigation, where the drama takes place outside the courtroom.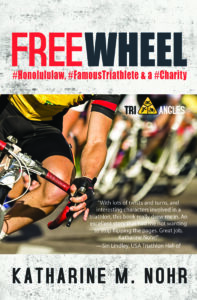 Olympic gold medalist, Ryan Peterson can't seem to get a break. He was ousted from professional cycling for doping. After he switched sports to triathlon, he was blasted by the tabloid press for allegedly causing an accident that wiped out his competitors. In an effort to redeem himself, Ryan starts the Freewheel Movement to help homeless and isolated people financially and emotionally. Although Freewheel is an instant success and Ryan becomes a television talk show regular, his bad luck continues. He's sued for allegedly causing the death of a competitor in a Hawaii triathlon, and no matter what he does, he can't convince the beautiful claims adjuster, Alexia Moore, to go out with him.
Young and ambitious new attorney Zana West is hired to represent Ryan and provide him a defense in the lawsuit, but by doing so, her relationship with Jerry Hirano, T.V. star of "Fighting in Paradise," is threatened. Will Zana be able to help Ryan get his life back, and keep her relationship together?
Katharine M. Nohr is the author of Managing Risk in Sport and Recreation: The Essential Guide for Loss Prevention (Human Kinetics, 2009) and Land Sharks (Written Dreams Publishing, 2016), and is a frequent international speaker on Olympic Games, professional athlete and triathlon risk management. She is a principal in Nohr Sports Risk Management, LLC, which offers career longevity/reputation risk management coaching for professional athletes. A former District Court (per diem) Judge, she continues her work as an insurance defense attorney, practicing law in Hawaii. During her free time, Katharine swims, travels and writes. Freewheel is her second novel in the Tri-Angles series. To learn more about Katharine or her books, visit her website at katharinenohr.com, or find her on Facebook at KatharineMNohr, on Twitter, Instagram, or LinkedIn.